International Tours
SSUSA presents: Hawaii 2016: Cruise and Play Ball on the Islands!
April 6 – 16, 2016
For more information email Susan Ruth at susan@weruth.com OR Call 206-930-7091!
Players named Hawaii their Dream Trip of 2016 - and here it is!
Classic Hawaiian Softball Cruise and Tournament
Cruise aboard Norwegian Cruise Line's luxury ship Pride of America for seven days; play softball, shop and sightsee on four of the Hawaiian Islands: Maui, The Big Island, Oahu and Kauai. With Freestyle Cruising and unique 7-day itineraries, there is plenty of time to enjoy the islands as well as play different teams across Hawaii. You'll be on island time as you discover cascading waterfalls, active volcanoes, black, green and white sand beaches, historic sites and unspoiled nature.
Itinerary:
Wednesday, April 6: Arrive in Honolulu / Welcome Dinner at 7:00PM
Thursday, April 7: Sightseeing and shopping in Waikiki for 1/2 day. Practice for 1/2 day.
Friday, April 8: Games against Honolulu teams.
Saturday, April 9: Day free to enjoy Honolulu. Board the Pride of America to begin our cruise in the evening.
Sunday, April 10: Dock in Kahului, Maui and explore the beautiful island!
Monday, April 11: Games with teams from Maui. Boat departs at 6pm.
Tuesday, April 12: Dock in Hilo on the Big Island and enjoy a free day on the island.

Wednesday, April 13: Dock in Kona on the Big Island, home to the famous - and very active - Kilauea Volcano! Games with teams from Kona. You will have time to explore, shop...or just relax on the beach.
Thursday, April 14: Dock at Nawiliwili in Kauai and experience tropical paradise. Games against Kauai & Lihue teams.
Friday, April 15: Free day to explore the island. Evening Awards Dinner aboard the Pride of America.
Saturday, April 16: Dock in Honolulu at 7:00AM and board flights for home with memories to last a lifetime!
Hotel:
Sheraton Princess Kaiulani
120 Kaiulani Avenue
Honolulu, HI 96815
808-922-5811
Details:
When: April 6-16, 2016
Deadline: February 16, 2016
Price: $3,080
For Tour Pricing and Flight information please call or email Susan Ruth:
Phone: 206.930.7091
Email: susan@weruth.com
SSUSA presents: The 4th Annual Pacific Rim Championships in Taiwan!
October 17th - 24th, 2016

The Taiwan Softball Association has invited Senior Softball USA to participate in the 4th Annual Pacific Rim Championships in Taiwan on Oct. 22-23.

The US Teams will depart for the friendship games on Oct. 17 and return Oct. 24. Any SSUSA registered player is eligible to participate. Please contact Ross McCulligan at Ross@SeniorSoftball.com, or call 916-326-5303 if you are interested.

Our Taiwan hosts are in the process of creating an itinerary that will include some practice games, sightseeing, an International team dinner as well as the tournament. We will contact SSUSA players again as soon as we receive the itinerary and the cost.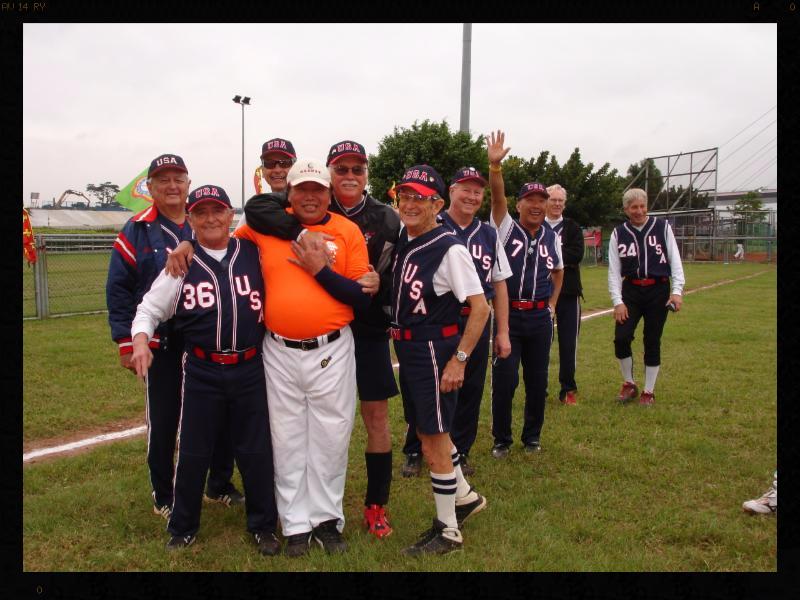 Tentative Schedule:
Oct. 18: Land in Taiwan
Oct. 19 - 21: Sightseeing & Practice Games
Oct. 22 - 23: Pacific Rim Championships
Oct. 24: Fly back to US

Download: Booking Form

Day 1 - Thursday June 22nd

Arrival Munich

D

| | |
| --- | --- |
| In flight USA to Munich Germany | B = Buffet Breakfast D = Group Dinner |

Arrive into Munich's International Airport (MUC). Clear Immigration and Customs and meet your Tour Representative in the arrival's hall.

Free time for bathroom and currency exchange before transferring to the Group's hotel in Lengries / Munich area and check in for 4 nights.

Remainder of the day is free at leisure until group welcome dinner. Players will meet teammates, their manager and hear details about practices and the two tournaments.

Munich is the capital of the German Federal State of Bavaria. It is also Germany's third largest city and one of Europe's most prosperous. The city has a population of about 1.3 million and the Munich metropolitan area is home to around 2.7 million people. The city is located on the River Isar north of the Bavarian Alps.

Hotel Arabella Brauneck in Lengries / Munich Area

Day 2 - Friday June 23rd

Lengries / Munich

B

Breakfast in the hotel

Morning city tour of Munich with local step-on guide. This tour will show you the Arts District, Konigs Platz, Olympic Center for the 1974 Games, Leopold Street, Triumphal Arch (Siegestor), University, Bavarian Houses of Parliament, BMW World, Isar Gate and Marien Platz with the world famous Glockenspiel. Tour will finish in the Marien Platz for the 12:00 noon playing of the Glockenspiel.

Free time in the City Center before we transfer to the softball fields for an afternoon practice. This afternoon, you will have a chance to practice with your teammates and prepare for the Bavarian Championships.

Evening free at leisure.

Day 3 - Saturday June 24th

Lengries - Munich Softball Tournament

B

Breakfast in the hotel

Today we compete in the first day of the Bavarian Championships with teams from throughout Germany. You will have a chance to meet players from German teams and socialize after the games.

8:00am transfer to ball field for a full day tournament

9:00pm return to the hotel

Day 4 - Sunday June 25th

Lengries - Munich Softball Tournament

B

Breakfast in the hotel

Today we conclude play in the Bavarian Classic Championships with teams from throughout Germany. There will be an award ceremony after the games are completed.

8:00am transfer to ball field for a full day tournament

9:00pm return to the hotel

Day 5 - Monday June 26th

Munich – Neuschwanstein - Innsbruck

B

Breakfast in the hotel

Morning departure from Lengries / Munich area to Innsbruck. This morning we drive southwest to Fussen where we make our first stop to visit one of the most famous castles in the world. Neuschwanstein, affectionately called the Fairytale Castle.

The castle is located in Bavaria, near the town of Fussen. It was built by King Ludwig II of Bavaria, also known as the "Fairytale King". King Ludwig was a great admirer and supporter of Richard Wagner, the world-renowned composer. Neuschwanstein Castle was built in his honor and many rooms in the castle's interior were inspired by Wagner's characters.

After our guided tour of the castle we have time for an independent lunch before we continue over the mountain pass and into Austria and Innsbruck.

Check into our hotel for 2 nights

Evening free at leisure

Hotel Ramada Tivoli in Innsbruck

Day - 6 Tuesday June 27th

Innsbruck

B, D

Breakfast in the hotel

Morning city tour of Innsbruck with local step-on guide

Tyrol's capital is a sight to behold. The jagged rock spires of the Nordkette range are so close that within minutes it's possible to travel from the city's heart to over 2000 meters above sea level with alpine pastures where cowbells chime. Summer and winter activities abound, and it's understandable why some visitors only take a peek at Innsbruck proper before heading for the hills. But to do so is a shame, for Innsbruck is in many ways Austria in microcosm. Its late medieval Altstadt is picture book which is presided over by a grand Habsburg Palace and baroque cathedral, while its Olympic ski jump with big mountain views make a spectacular leap between the urban and the outdoors.

Afternoon free with time to wander about the old city, see the Golden Roof, visit the Habsburgs Royal Palace or go to the Swarovski Crystal outlet. Swarovski is made in Wattens which is just 5 miles outside of Innsbruck.

Tonight we enjoy a full Tyroler Evening with folk show and 3 course dinner

Day 7 - Wednesday June 28th

InnsBruck –Berchtesgaden Eagles Nest – Bad Reichenhall

B, D

Breakfast in the hotel

Departing Innsbruck this morning we take a scenic drive along the foothills of the alps to Berchtesgaden and transfer to Obersalzberg. Driving up to the Obersalzberg area we transfer to the public shuttle buses which run up to the Kehlstein Haus (Eagle's Nest).

The Eagle's Nest was a gift from the Nazi Party for Adolf Hitler's 50th birthday and used by him to entertain friends, high ranking Politicians and members of the Nazi party. After various bombing raids by the allied air forces the house was captured by the American 101st Airborne Division, the Screaming Eagles. After WWII the building was repaired by the Bavarian Government. From here we have spectacular views overlooking the city of Salzburg in Austria and the Salzkammergut. After visiting the Eagle's Nest, we drive back to Obersalzberg and visit the remains of Hilter's main residence, "The Berghof". If time allows we also have the opportunity to visit the bunker system on the Obersalzberg
(Entrance price not included - cost 4.00 Euro).

After the tour Check into your hotel for the next 2 nights

Dinner in the hotel

Evening free at leisure

Hotel Wyndham Grand Bad Reichenhall / Salzburg Area

Day 8 Thursday June 29
Bad Reichenhall - Salzburg

B

Breakfast in the hotel

Full day "Sound of Music Tour". This morning we take the short drive to Salzburg and visit this beautiful historical city

Salzburg, meaning "Salt Fortress" is the fourth-largest city in Austria and the capital of the federal state of Salzburg.

Salzburg's "Old Town" (Altstadt) is internationally renowned for its baroque architecture and is one of the best-preserved city centers north of the Alps. It was listed as a UNESCO World Heritage Site in 1997. The city has three universities and a large population of students. Tourists also frequent the city to tour the city's historic center and the scenic Alpine surroundings.
Salzburg was the birthplace of 18th-century composer Wolfgang Amadeus Mozart. In the mid‑20th century, the city was the setting for the musical play and film The Sound of Music.

A city tour with local guide is planned for this morning. Free time in the afternoon to relax and perhaps do some personal sightseeing and shopping, before we return to your hotel by late afternoon.

Evening Free and time to relax

Day 9 - Friday June 30th

Bad Reichenhall - Vienna

B

Breakfast in the hotel

After breakfast this morning it's time to board our coach and drive east to Vienna, the capital city of Austria. Enroute we stop at one of the most beautiful Abbeys in Europe, Melk Abbey.

Melk is best known for its staggeringly massive Benedictine Monastery, which was founded in 1089 in a medieval fortress belonging to the House of Babenberg.

The interior of the abbey church is a mass of stained-glass windows, multi-colored marble, intricate gilding and elaborate frescos in the dome by Johann Michael Rottmayr. Melk boasts the largest ecclesiastical library in the world, with over 80,000 priceless volumes and a wonderfully frescoed ceiling, while the new museum has many jeweled reliquaries and manuscripts on show.

Napoleon used Melk Abbey as his HQ when campaigning in Austria and the monastery also survived WWII, only to be badly damaged by fire once again in 1947. Today it is surrounded by landscaped gardens with spectacular views over the Wachau Valley and the Danube River.

From Melk, after a short drive, we arrive into Vienna and check into your hotel for the next 4 nights

Evening free at leisure

Hotel Mercure Vienna

Day 10 - Saturday July 1st
Vienna

B

Breakfast in the hotel

Morning free time for personal sightseeing and shopping

Transfer to the softball fields for practice (max 6 hrs)

This afternoon we have a full practice with some exhibition games to prepare
for the Vienna Classic.

Depart hotel 2:00pm

Return to hotel by 8:00pm Remainder of the evening free at leisure

Day 11 - Sunday July 2nd
Vienna Softball Tournament

B

Breakfast in the hotel

Today we play in the Vienna Classic with teams from throughout Austria. They are planning a music festival and there will be an award ceremony after the games are completed.

8:00am transfer to ball field for a full day tournament

9:00pm return to the hotel

Day 12 - Monday July 3rd
Vienna

B, D

Breakfast in the hotel

Morning city tour of Vienna with local step-on guide

Our tour will take us to the famous landmarks and best attractions that the city has to offer. Soak up the sights of the impressive buildings, including the Vienna State Opera, St. Charles' Church and St. Stephen's Cathedral. Several stops will be made to allow time to take a closer look at these magnificent landmarks and to explore the city's beautiful open spaces, like the People's Park and the Hundertwasser House.

Free time for an independent lunch before we board our boat for a wonderful cruise along the Danube River.

This evening we transfer to the outskirts of Vienna for our farewell dinner at historical wine village of Grinzing. Here we take our seats and enjoy the local Heurigen Fayre and young wine. A wonderful send off to a fabulous tour through Bavaria and Tyrol and Vienna.

Day 13 - Tuesday July 4th
Vienna - Transfer to International Airport

B

Breakfast in the hotel

Group transfer to Vienna's International Airport (VIE)

Individual check-in for flights

B = Buffet Breakfast D = Group Dinner

Tour Highlights

Munich City Tour

Welcome Dinner

Visit BMW World

½ Day Softball Practice in the Munich area

2 Full Day Bavarian Championships Softball Tournament

Guided Tour of Ludwig's Fairy Tale Castle "Neuschwanstein"

Scenic Drive to Innsbruck

Innsbruck City Tour

See the Golden Roof

Dinner and Tyrolean Folk Show in Innsbruck

Visit Hitler's Eagle's Nest

Thrilling Scenic Bus Ride to the Eagle's Nest

Visit Hitler's Bunker

Visit Germany's Resort Spa Bad Reichenhall

Sound of Music Guided Tour of Mozart's City "Salzburg"

Visit Melk Abbey

Guided Tour of Vienna

½ Day Softball Practice and Exhibition Games in Vienna

1 Full Day Vienna Classic Softball Tournament

2 Hour Blue Danube Cruise in Vienna

Farewell Dinner in the Wine Village of Grinzing

What is included:

12 Nights in 4* Tourist Superior Category Hotels

12 Hot / Cold Buffet Breakfasts

1 Welcome Dinner (3 courses excluding beverages)

2 Dinners (3 courses excluding beverages)

1 Farewell Dinner (4 courses including wine & Music)

Full USA Uniform for players, including jersey, pants, belt
and cap

Entry into Bavarian Championships

Entry into Vienna Classic Tournament

Softballs for Tournaments

All Awards for Tournaments

All Excursions, Guided Tours & Sightseeing as per
the Itinerary

All entrances as per the Itinerary

Services of a Professional Bilingual Tour Manager
Escort throughout

Land Transportation by Luxury Coach with
W.C. & A/C

All Road Tolls, Taxes and Parking Fees

All Entrance Fees as per the Itinerary

All Rooms with En-suite Facilities

All City Permits, in Innsbruck, Salzburg & Vienna

All City Tourist Taxes

Driver's & T/M's Accommodation

All Group Tipping

What is not included:

Round trip airfare to and from the US Gateway / Europe

All items of a personal nature i.e., telephone calls, laundry, pay TV, hotel mini bars, etc.

All meals not specified in the itinerary

All entrances to museums, art galleries, etc. not specified in the itinerary

All private excursions not specified in the itinerary

Any public transport, taxi, local bus, rail or flights not specified in the itinerary

Luggage handling at the airport

Luggage handling at the hotels

Travel Insurance (medical & travel delays and lost baggage)